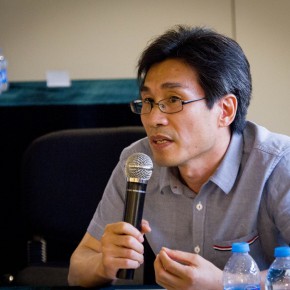 The Everything of Everything
Slowly. The everything of everything
in the drawers of memory
will find its own place.
After lightning ends, the sky is empty again.
Thunder's accomplice will perhaps be in the next moment.
The sound of thunder doesn't necessarily know.
The hand of the river's flow that Nature extends
is also spinning the prayer wheel for emptiness.
Human beings? They have different worries.
The gaze can never rise beyond the forehead.
Just stitch one good poem, in the heart's apex—
as good as the six-word mantra.
Our train is the same spring-summer-autumn-winter train,
heading to an unnamed future.
How many peaks as tall as the sky still can't be climbed?
How many creatures anxiously wish to plunge into the mother's womb?
Slowly, everything slips toward another everything . . .
and everyone will surely make way for another.
Slowly. The everything
of everything: is nothingness!
一切的一切


慢慢的。一切的一切
都会在记忆的抽屉里,

各自找到自己的位子。
闪电过后,天又空了。

炸雷的同谋该是下一刻?
雷声自己也未必知道。

大自然伸出河流之手,
为空空如也转着经筒。

人类?他们的心事不同。
目光总是高不过额头。

只缝一句好诗,在心尖—
好得像六字真言。

我们的火车是同一列春夏秋冬,
开往不知姓名的未来。

多少峰顶仍天空般高不可攀?
多少生灵还焦急地要投进娘胎?

慢慢的,一切都滑向另一切……
一个人也必将让位给另一个……

慢慢的。一切的
一切:空空如也!


10/2010


(Trans. Jami Proctor-Xu)