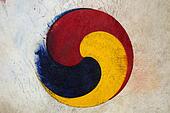 "Houston, Houston..."
Biologists found the secret of life
Physicists found the key to the universe
You slip getting out of the bath
And find that you've got a sore neck
The universe looks a bit different now
Obviously your life's still on the skids

The 4th most beautiful woman on earth
Actually a Miss Universe runner-up
Is a student in your language class
Well-spoken, tall, no make-up, smart
Wonders if in some other galaxy
The next Miss Universe is being judged

The keys and secrets of everything
Walking superstitious rounds as you
Preach a modesty that puts your self first
Until you see the parallel worlds
As clearly as your own feet at the exit
And that life and the universe look on

The red pill or the blue pill?
Behind us is the great bazaar
The drone of confusion continues
Is knowledge the incandescent one?
Is beauty ever the shield rubbed raw
That hides the other side of night?